Dream Big Performing Arts Workshop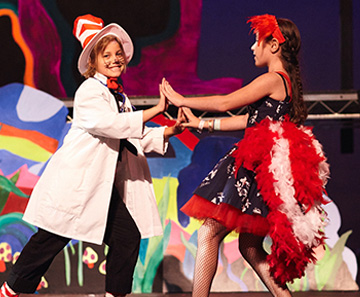 The mission of Dream Big is to enrich children's lives with life-affirming and energizing, creative experiences in the performing arts. With a focus on fostering confidence and self-expression, these collaborative experiences led by professional teaching artists allow children's hearts and spirits to shine bright on and off the stage.
Dream Big began in January 2006 with one class of four students who are featured proudly on our homepage with our founder, Lisa Lang. It was a small class with big dreams! 15 years later, Dream Big provides hundreds of workshop-based enrichment programs in and out of schools throughout the Chicagoland area, residencies where we collaborate with classroom teachers to integrate drama and standardized curriculum to enhance student learning, weekly themed drama camps throughout the summer, as well as one large-scale professional production experience on stage at the Athenaeum 900+ seat theatre every August. Our compassionate team of teaching and administrative staff is comprised of talented field professionals embedded in all aspects of the theater arts community and experienced educators, who each believe strongly in the power of the performing arts in a child's life.
We proudly adopt The Chicago Community Trust's Statement of Diversity and Inclusion:
The Chicago Community Trust's Statement of Diversity and Inclusion:
The mission of The Chicago Community Trust and Dream Big Performing Arts is to improve the lives of the people in metropolitan Chicago. We believe that the diversity of our community is a fundamental strength of our region. Our mission is best fulfilled when we embrace diversity as a value and a practice.
We maintain that achieving diversity requires an enduring commitment to inclusion that must find full expression in our organizational culture, values, norms and behaviors.
Throughout our work, we will support diversity in all of its forms, encompassing but not limited to age, disability status, economic circumstance, ethnicity, gender, race, religion and sexual orientation.
Leading by example we aspire to make diversity a core and abiding strength of the nonprofit sector.
The Trust believes that the board and staff composition of grant recipients should reflect the diversity and demographics of the community being served, and include diversity among its leadership at the board and senior staff levels to ensure the diverse perspectives needed at these decision-making levels.
Specifically, we require all grant applicants either to adopt the Trust's Diversity Statement, above, or to have a similar policy adopted by their boards. In addition, the Trust asks that applicants provide demographic data on board and staff as well as clients/beneficiaries. Applicants are encouraged to provide a rationale or action plan to address lack of diversity in their organization. In aggregate form these data provide an important profile of minority inclusion in the nonprofit sector.
Since our inception, we have never turned anyone away based on their ability to pay.
Core to our mission since day 1 is providing a way for all children to participate in our programs no matter the financial constraints. In the past 15 years, we have never turned a child away due to lack of funds. In August of 2016, we filed our Articles of Incorporation so that we can operate as a non-profit and honor this commitment in a more sustainable way. If you would like to learn more about how you can get involved and/or contribute time, dollars, or services, click here.